Jon Langston
with DYLAN MARLOWE, Kate Mallen
Fri
December 10, 2021
( Doors:

7:00 pm

)
SHOW:
7:00 pm
EST
Showplace Theater
1065 Grant Street, Buffalo, NY
Ages 18 and Up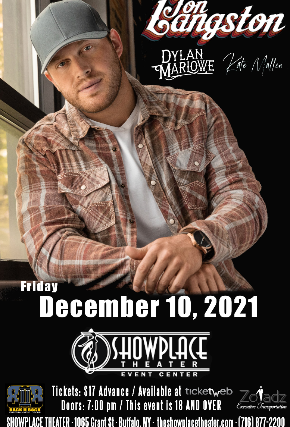 The Showplace Theate proudly PRESENTS Country star "JOHN LANGSTON". With opening act "DYLAN MARLOWE" and "KATE MALLEN". Concert is standing room only 18 and up with proper ID.TICKETS ARE NON REFUNDABLE. With the new Erie county madates we require PROOF OF VACCINATION OR A NEGATIVE COVID TEST 48HRS OR LESS PRIOR TO ATTEND THE EVENT. Masks do not have to be worn. Refunds will be only given if show is cancelled not rescheduled.Due to the recent rise in COVID Emmanuel Sanders and friends and his organization will not be able to part of this event.


JON LANGSTON
Jon Langston grew up in Loganville, GA, listening to music by his heroes Alan Jackson and the Eagles. He played football, eventually earning a Division 1 college football scholarship. Jon always thought football would a part of his life, but after his sixth concussion left him blind for fifteen minutes, his football career ended abruptly. So, he picked up his guitar which he hadn't touched since the eighth grade and re-taught himself how to play. Playing open mic nights and working on his songwriting eventually lead to the 2013 release of self-penned, "Forever Girl," the first song he ever wrote. That release kicked off his music career which has culminated in sold out shows across the country and over 500 million career streams. Jon opened for Luke Bryan on his Farm Tour in 2017, which was a full circle moment having attended as a spectator of the Farm Tour only a few years before in Athens, GA. He was invited to perform on the tour again in 2018 and joined Luke in support of his Sunset Repeat Tour in 2019. Jon signed a publishing deal with Sony ATV, management with KP Entertainment, and is the first artist signed under Luke Bryan's new Label 32 Bridge Entertainment with EMI Records Nashville. Jon's debut major label single, "When It Comes To Loving You" reached No. 1 on the all-genre iTunes Chart. His most recent single, "Now You Know", reached the Top 30 on the radio charts.
Jon Langston
Jon Langston is a singer/songwriter from Loganville, Georgia. Langston first learned to play the guitar in 8th grade, but music wasn't his main focus until his junior year of college. Langston attended Gardner-Webb University, where he played football.

Country music is Langston's passion, but he has had many different influences that have molded his music style. Garth Brooks, Alan Jackson, and Tim Mcgraw to Guns-n-Roses, Staind, and Lynyrd Skynard have taken part into forming what Jon Langston's music has become.

In 2012, Langston began writing his own original songs and worked on them at Century Studios in Atlanta, GA, and released his first three original songs in January 2013. His song "Forever Girl" played on Atlanta's 94.9 The Bull's Backyard Country for six weeks. Jon released four new songs off his "Runnin' on Sunshine" EP that he co wrote with another artist and good friend, Jordan Rager, in August 2013. Off the new EP, "She's so Georgia", was aired within a week of release on Backyard Country.

He has played venues in Georgia, Alabama, and North Carolina, and has had the opportunity to be the opening act for artists such as; Chase Rice and Corey Smith. Jon was nominated for the 2013 Georgia Country Awards, Male Artist of the Year and thanks to his fans, he is currently one of twelve vying for the award. Langston's music is available on iTunes now!